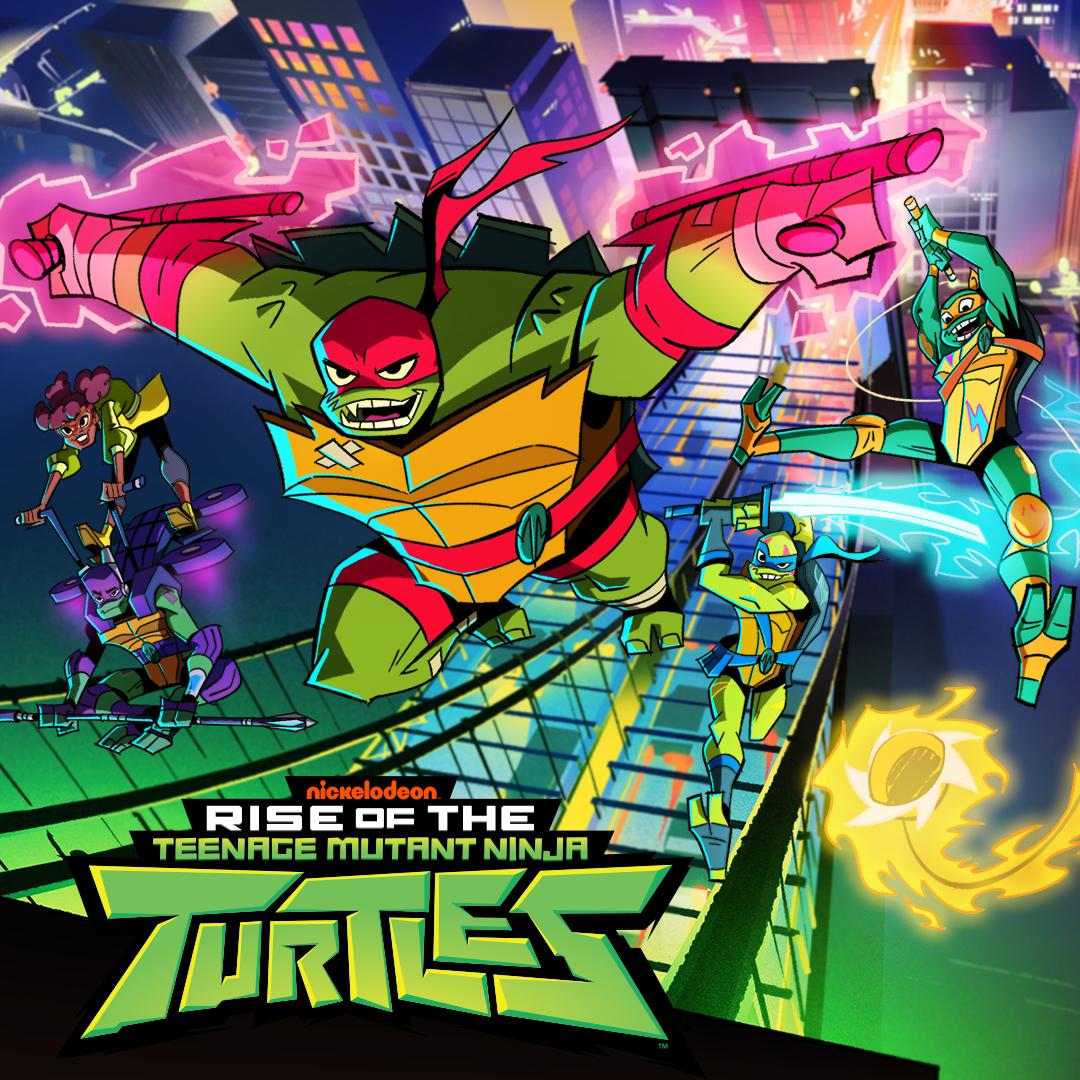 The short-awaited next iteration of the Heroes in a Half Shell, Rise of the Teenage Mutant Turtles, went live on Facebook earlier today where they unveiled the character designs and personalities of the main six protagonists.  As with a number of TMNT fans my age, I've been a fan since the 1987 cartoon, so the franchise is near and dear to my heart.  I've taken most different interpretations in stride (there are still things about the new live-action movies that bug me…other than them being not good), so I'm really looking forward to how this show handles the titular turtles and their large cast of friends and foes.  Since I don't plan on this being a long post, that first picture will be the only one here.  Let's kick things off with April and Splinter.
April's design is cute.  Recent versions of the character have had her taking a more a proactive role in the brothers' adventures, so I assume it will be the same for this show.  Her solo image revealed her wielding some sort of energy bat, but I'm assuming that'll be Donnie's tech since the other Turtles are shown with energized weapons as well.  Splinter's design was a little disappointing for me.  The creators are obviously drawing from the new movies for the characters' designs, but man, I wish they hadn't with Splinter.  He just looks…weird.  I am fine with him being a comedic character as Splinter traditionally brings a decent bit of humor to the franchise.  I can't think of a version where Splinter didn't make me laugh.  Well, maybe the original comics, but I'd need to go back and re-read them.
As for the Turtles…well, there's a decent bit to unpack there.  Having them be different species of turtles means they're no longer brothers by blood, which is something I don't think we've seen since Next Mutation (could very well be wrong there).  Raph is a snapping turtle, Leo is a red-eared slider, Donnie is a softshell turtle, and Mikey is a box turtle.  Changing what species each is has given the creators some interesting design choices.  Since he's a softshell, Donnie will have different battle shells he's built to cover his own, and the creators even hinted one will gain sentience (Metalhead, maybe?).  Leonardo now has red stripes on his face, and Raphael has a reason for being much larger than his brothers.  I'm no turtleologist (surely, that's a real word), so I'm looking forward to how these play out on screen.
The personalities and weapons changes are where I'm having to fight against my pre-conceived notions of what the TMNT are and remind myself every version is different.  Leonardo now wields a single sword instead of two, and he was described by the creators as being a "smart-butt."  Also, he's no longer the leader.  On one hand, I can't believe it because Leonardo is the leader of the TMNT, but on the other hand, I'm curious to see a Leonardo unburdened by the expectations of leadership.  Who is my favorite Turtle when he's not leading them?  Seeing as how this will be a more comedic version, I doubt they will get too into character study, but a man can dream.
Congratulations, Partners in Kryme, your vision has come to pass and Raphael…well, he's the leader of the group.  The hothead oldest brother also now wields tonfas instead of his trademark sais.  Aside from that, I don't recall them mentioning anything too different.  Mikey is also pretty much the same except now he's an artist and has ditched his nunchaku for some sort of stick/bladed yo-yo sort of thing (further reading tells me this is probably a kusari-fundo).  He is also once more the baby of the group.  Donnie's one of the bigger surprises.  Now that we live in a world where being a nerd is kind of the "in thing," Donatello is a far more confident member of the team.  He knows how legit his tech is, and he knows how much he contributes.  At least, that's what I gathered from listening to the creators.
With so many comedians cast and the creators stating repeatedly this will be a more comedic show than the previous one, I am genuinely afraid this will be Nickelodeon's Teen Titans Go!.  I can't…I can't even begin to tell you how much that frightens me.  I'm holding out hope, though, since all we know are what the main six will look like and some of their traits.  I'm surprised it's coming so soon after the absolutely awesome 2012 cartoon, but I'm glad we won't be without the TMNT on television for too long.  Plus, it's 2D animation.  That alone has me excited.